4 Heart-warming Things You Can do for Your Tea-lover Mom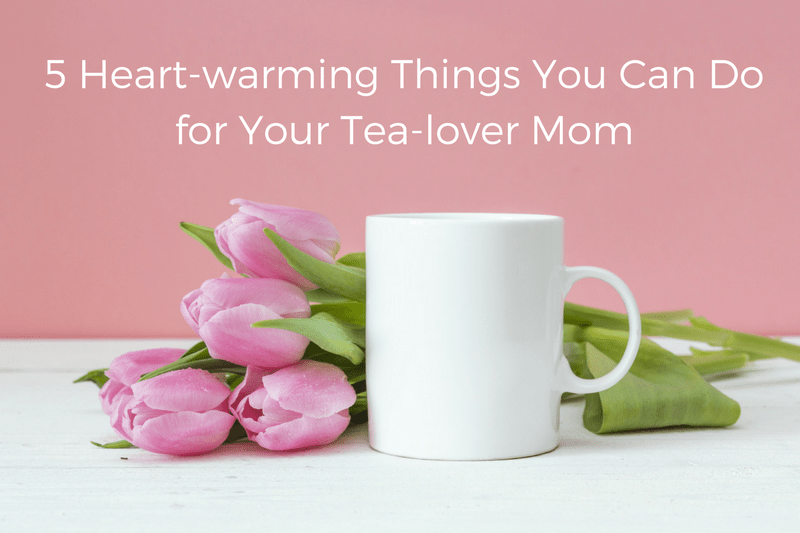 Mother's Day is just around the corner and you may be wondering what to get your mom. Adding personal touches to gifts is always the way to go, especially with family. A great way to start your search for the perfect gift is by taking your mother's likes and dislikes into account. By doing so, you won't just show her that you went through the effort to get a gift, but also that you put some genuine thought into selecting her gift. If your mother loves tea, you're in luck because you'll find five heartwarming gift ideas for her below! 
If your mother is a fan of the rich flavors and the intense yet beautiful colors resulting from the traditional Japanese tea powder known as matcha, then this tea maker will make the perfect gift for her. The Sharp Tea-Cere Tea Matcha Maker automatically brews up to four cups of tea after grinding your choice of tealeaves into a fine powder. It is capable of brewing hot and cold drinks and has two separate heat settings. It's available in two classic colors, green or red, so you can further customize your thoughtful gift.
Your mother will love trying her new machine while enjoying the rich, buttery flavor characteristic of this healthy beverage. Since the process involves infusing and ingesting the leaf powder in its entirety rather than steeping loose tea leaves in the water, the health benefits of the tea are increased and help to cleanse the body.
2. One Touch Teapot
This gift is perfect for the mothers who love drinking tea but don't necessarily enjoy making it. This teapot may look like any other glass teapot, but it doesn't stop at a simple brew as this teapot infuses the tea for the appropriate time and temperature according to the tea chosen. The capacity of the teapot is forty fluid ounces, which is enough to serve a party of five or more. The LCD display allows you to easily customize the options to make the perfect brew every time with minimal effort. The six modes offered include white, oolong, green, black, herbal and custom, covering nearly every type of tea out there. The unique mesh, agitating basket moves on its own after sensing that the water has heated up. Once the steeping is done, the basket rises from the water to prevent over-steeping. Simply put, this means that you can simply start the brew and walk away to do whatever needs to be done, which is great for those who are constantly on the move or enjoy multitasking. Don't worry; the "keep warm" setting will prevent the tea from getting cold.
When thinking about all those nights that your mother struggled in the kitchen alone to set dinner on the table, this nifty teapot sounds like the perfect gift to recover lost time and minimize effort. She no longer has to hassle with other teapots that require her to watch them so that the tea isn't too strong or too weak because this one will brew the perfect cup every time. All she has to do is throw some tealeaves and water into the machine and the rest is done for her as she puts her feet up and relaxes.
 I wrote a whole review article of this product. Click here to see the full review. 
3. A Lasting Monthly Tea Subscription
A monthly subscription is one of those gifts that keeps on giving. Japanese Green Tea promises authentic, fresh tea delivered right to your mother's doorstep. What's even better is that the type of tea delivered can be changed with ease and the subscription can be paused if your mother is ever away from home for an extended period of time. Best of all, there are many fresh and healthy teas to pick from on their website. Your mother will greatly appreciate your concern for her well-being and thoughtfulness every month with the arrival of her tea care package.
4. Spending Quality Time with Your Mom by Enjoying Tea Together
Perhaps the most genuine gift that you can give your mom is to simply spend time with her, enjoying her favorite beverage. Although material gifts are a nice gesture, it's the unconditional bond between a mother and child that stands strong at the end of the day. Something as simple as grabbing two cups of freshly brewed tea and sharing an intimate conversation with her is a heartwarming experience on its own. With the world being as busy as it is, it can be hard to remember the last time that you shared some quality bonding time with your immediate family. Time flies fast; your mother may still be able to recall you being a child like it was yesterday and now you're all grown up and taking the initiative. In a society like ours, we often forget how important it is to just step back and appreciate the here and now, to stop and smell the roses. Enjoy the moments shared now because they are unbelievably fleeting. It's also important to remember that it doesn't have to be Mother's Day to celebrate mothers everywhere.

At least one of these creative ideas is sure to be a great match for your mother. Even if you're not a tea expert yourself, consider yourself knowledgeable enough to be able to make an informed decision. Think carefully about what your mother needs the most or what she would get the most out of. Some tea lovers enjoy the process of making the tea themselves while others simply prefer drinking their favorite tea at the end of a long day. Use this opportunity as a bonding experience with your mother this Mother's Day!
Related Articles You May Be Interested In
---
Get Free Download
If you have ever thought that Green Tea is an ìacquired tasteî or that it is ìtoo bitterî to enjoy, weíre here to change your mind! We want everyone to experience the health benefits of Green Tea and show you that this can be an amazing, refreshing, and delicious drink when made correctly. With just a few tips on how to brew this powerful leaf, we can change your mind about the taste and enjoyment of drinking Green Tea.
Donít miss out on the health benefits of tea!
Improve health
Increase brain function
Regulate weight
Lower your risk of cancers
Reduce risk of heart disease
Lowers risk of diabetes
We know that you will love this tips to brewing tea and getting the most flavor and elegance out of every cup. Sign up for our newsletter and get this great informative manual on brewing green tea. You will learn what it is that makes it one of the most popular beverages in the world.
The E-Book also includes the chapter of Kei Nishida's book, "Art of Brewing Japanese Green Tea" where he teaches you how to brew hot and cold Japanese Green Tea.