5 Ways To Enjoy Tulsi With Japanese Green Tea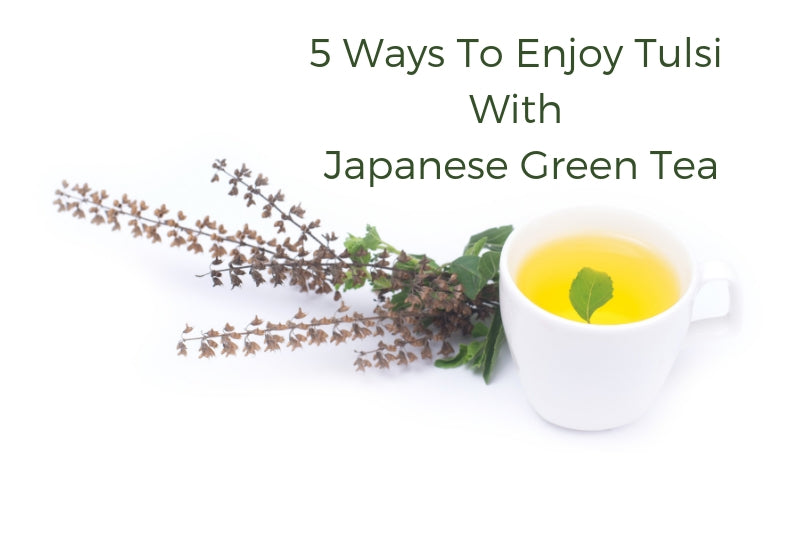 If you've never had tulsi before, it's about time that you tried this amazing spice. If you've tried it before or use it regularly, then you know just how delicious it can be in almost any dish.Tulsi smells much like clove and has a strong, mint-like flavor that can be delightful when combined with the right type of food and drink.
Tulsi is considered to be a holy plant in India. Because of this, it can be found growing in almost every household in the country. This is one reason why you can find Tulsi in many Indian dishes. Tulsi is believed to be the incarnation of a royal princess who was in love with Krishna.
A surprising way to use tulsi is with green tea and matcha. If you're looking for new recipes for drinks and meals, the following 5 ways to use tulsi with green tea will provide you with ideas that you may have never thought of trying before:
1.Tulsi with Matcha
If you're looking for a new way to wake up in the morning or get a bit of a kick when you're facing a lull in the middle of the day, a tulsi with matcha tea blend can make a world of difference. Because it is an energy-inducing spice, it's a great addition to any type of tea, especially with your favorite matcha tea. Both ingredients are known to be good for our health, so just imagine how amazing this blend can be for you.
You can drink these two ingredients together as a hot tea, add light milk foam to your tea to make a latte, or even make a smoothie out of them! However, if you feel like drinking some of nature's best ingredients will be the best way for you to enjoy this pairing and surprisingly, it can be used in many more ways than what we've mentioned above.
How to: Grind the tulsi and matcha separately before preparing your food or drink, then mix them together to blend the flavors together.
2. Tulsi with Sencha
For those who prefer sencha over matcha, there is something to be said about the flavor of tulsi with Sencha. If you like the way that sencha can help to provide you with a clear, energetic mind while also calming your nerves, just imagine drinking a glass of Sencha tea or a Sencha smoothie with it. It's the perfect option for those days when you have to keep on working but find yourself stressed and with your nerves all over the place.
A warm cup of tulsi/sencha tea can help you to relax yet carry on with your project and get it done. We love this blend as sencha has a vegetal flavor that is rich and refreshing. Sometimes, however, it may be too "spinach-like" for some people, so the addition of the minty tulsi gives it a more pleasant tea-like flavor.
How to: Before you prepare anything with sencha and tulsi, you'll want to make sure to boil the sencha and tulsi together to get the most you can from the flavors.
3. Tulsi with Hot Milk and Matcha
Is it a cold day and you want something warm to warm you up and soothe your mood? Well we know the perfect fix to keep you cozy inside! Prepare some hot milk with matcha and add a touch of tulsi and you'll have yourself the perfect concoction to brighten any gloomy day. Because tulsi is actually good for your health (much like green tea), milk with matcha and tulsi is not only a great way to get nutrients, it's an easy and yummy way to do so. From helping to relieve stress to providing your body with necessary antioxidants, there are several reasons that you should consume this delectable drink as often as you can.
How to: Make sure to grind the matcha and tulsi before putting your milk on to boil. As the milk starts to boil, mix in the blend of matcha and tulsi. Take tastes as you mix it in completely to make sure that you get the perfect blend.
4. Tulsi Green Tea Cocktail
Are you having friends over for a special event and looking to try new things to amaze them? Well, a great way to freshen things up is to add tulsi and green tea to your choice of liquor (though we would have to say that we like the taste of green tea with vodka or gin). The rich mint flavor of the tulsi brings a green tea cocktail to a whole other level of exotic making it an idyllic option for when you want to surprise your guests with something that they'll question at first but end up loving. We always love this type of daring cocktail with a touch of lemon for a winning drink that will make your guests ask for more. While liquors like rum or whiskey may not blend well with the rich flavors of green tea and tulsi, you can try your favorite liquors until you find the one that works best for your palate and tastes great in cocktails.
How to: There are different ways to make this type of cocktail but the easiest way to do so is to make a tea with your green tea and tulsi. Make sure that you let it sit long enough for the water to really get the flavors. Once the tea is cool and you can taste the tulsi and green tea, shake with ice and your favorite type of liquor and additional ingredients for an incredible tasting cocktail.
5. Tulsi Matcha and Ice Cream
Who says that dessert can't contain some of your favorite Indian spice? We think that tulsi can be amazing, and that's why we think one of its best uses is with matcha ice cream. It's the perfect blend of minty and sweet that makes for a marriage that is so perfect you'll wonder why this isn't a world-famous ice cream flavor. What's even better is that you can now wow your family or guests with an ice cream pairing that is to die for. Pair this ice cream with anything from a cobbler, to pie, to brownies and you'll be amazed at just how incredible the flavor really is.
How to: Make sure to get your favorite type of ice cream for this recipe (although it pairs best with vanilla). Boil water and add matcha, making sure to blend it in well. Grind tulsi and then add it as well. Whisk the blend for a few minutes and when you're confident the flavors are blended together perfectly, pour it over your ice cream and voila! You'll have a uniquely delectable dessert that won't disappoint.
In Conclusion
While you don't want to add tulsi to just anything, it can be amazing when paired wisely. Do some research and try various combinations with tulsi and matcha and you'll be able to use your favorite ingredients in new ways that will make you wonder why you never tried them before.
Whether you're looking for a new type of tea to drink or are simply looking for new ways to make dessert, these ideas will get you started using tulsi and matcha in the best way possible. If you can't get enough of your green tea and tulsi, you don't have to stop enjoying them. As you can see from the information above, there are still so many ways to enjoy these ingredients that you know and love.
If you are looking for quality Japanese green tea and matcha to match with tulsi in India, here is a link.
This article was originally published on T-Ching where my article is featured
Related Articles You May Be Interested In
Get Free Download
If you have ever thought that Green Tea is an ìacquired tasteî or that it is ìtoo bitterî to enjoy, weíre here to change your mind! We want everyone to experience the health benefits of Green Tea and show you that this can be an amazing, refreshing, and delicious drink when made correctly. With just a few tips on how to brew this powerful leaf, we can change your mind about the taste and enjoyment of drinking Green Tea.
Donít miss out on the health benefits of tea!
Improve health
Increase brain function
Regulate weight
Lower your risk of cancers
Reduce risk of heart disease
Lowers risk of diabetes
We know that you will love this tips to brewing tea and getting the most flavor and elegance out of every cup. Sign up for our newsletter and get this great informative manual on brewing green tea. You will learn what it is that makes it one of the most popular beverages in the world.
The E-Book also includes the chapter of Kei Nishida's book, "Art of Brewing Japanese Green Tea" where he teaches you how to brew hot and cold Japanese Green Tea.