How Does Green Tea Help Control Cholesterol Ratio?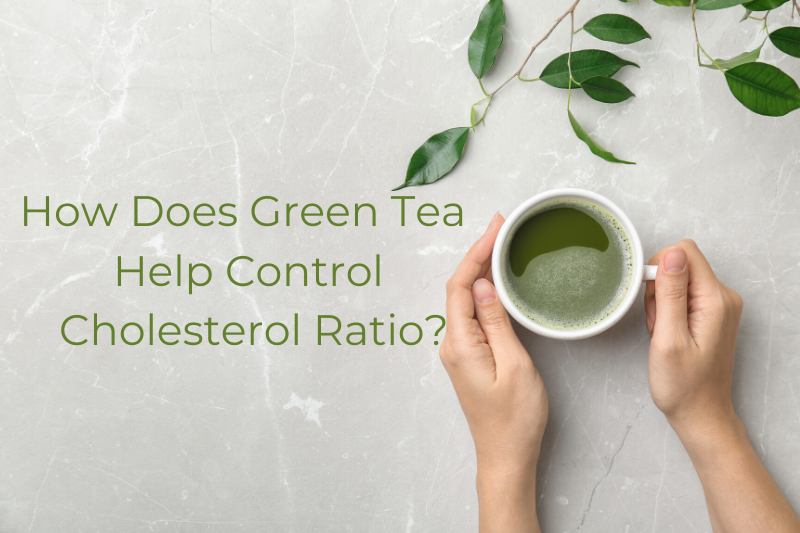 If you want to lead a healthy life, it is essential to keep your cholesterol levels in control. One of the simplest ways to reduce your cholesterol is to take premium green tea regularly. This tea works by reducing bad cholesterol in the blood and increasing the percentage of healthy cholesterol against bad cholesterol. According to many studies, including 20 latest clinical trials, drinking this tea can help in managing both cholesterol and blood pressure levels.
How Does Cholesterol Work?
Cholesterol is a natural substance that is essential for various bodily functions.
It contributes to creating cell surfaces
It is required for making hormones
It is required for insulating nerve fibers
Cholesterol is essential for your body to work properly and survive. There are 2 types of cholesterol – low density lipoprotein (LDL) and high density lipoprotein (HDL).
Some of the properties of HDL cholesterol are as follows:
HDL is referred to as good cholesterol because it is useful for the body
It improves the fat burning and distribution process
It has positive effects on the heart and arteries and thus improves blood circulation
The key properties of LDL cholesterol are as follows:
It is considered as bad cholesterol
It has been known to clog the heart and arteries
Increased ratio of LDL against HDL can increase risks of heart disease and stroke
The cholesterol present in powdered has been found to increase the ratio of HDL to LDL.
How Does Green Tea Work On Cholesterol?
Catechin is the most potent compound in green tea that demonstrate cholesterol-lowering properties. Studies show that it works on cholesterol in the following ways:
Preventing cholesterol absorption within the intestines
Increasing LDL receptor activity within the liver
Increasing HDL cholesterol levels
Lowering LDL cholesterol levels
Lowering total cholesterol levels
Promising Research Study Findings
According to a study involving 200 adults having high cholesterol levels, their total cholesterol levels were lowered by 11.3% when given 375mg of catechin extract. The different types of cholesterol were affected in the following ways:
LDL cholesterol decreased by 16.4%
HDL cholesterol increased by 2.3%
Triglycerides decreased by 3.5%
This catechin used in the study comprised only 150mg of catechins from green tea. This suggests that the effect of a higher dose of catechins from green tea can have an even more profound impact on cholesterol levels in the blood. It is also recommended to drink lots of green tea every day to achieve your goals of lowering bad cholesterol and raising good cholesterol in the blood.
Health Benefits of Increased HDL Levels
The increased ratio of HDL in the body has its own benefits. It removes the harmful cholesterol from the body and reduces the risks of developing cardiovascular diseases including heart disease and stroke. According to these studies, those who take up to 4 cups of powdered tea per day lower their total cholesterol levels. The benefits have been noticed in everyone including those taking a balanced diet and those consuming diets rich in fat. 
It is not just the tea, even those who take extracts of catechins have been found to experience similar health benefits. Those who took such extracts regularly showed lower risks of cholesterol-based or fat-based health conditions.
Recommended Daily Green Tea Dosage
It is recommended to take 2 to 6 cups of premium green tea every day to reap its cholesterol-controlling benefits. It is estimated that a single cup of the tea can reduce your cholesterol levels by up to 0.58 mg/dL. The benefits can be noticed to be in the range of 10%-25% within a period of 2 to 4 weeks of starting to take the tea.
So if you want to lead a healthy life and reduce the harmful effects of cholesterol in your life, it is best to drink 2 to 6 cups of green tea every day. Its health benefits go beyond and cover many other body functions.
 Buy Matcha
---
Related Articles You May Be Interested