Is Matcha Healthier than Sencha (Loose Leaf)?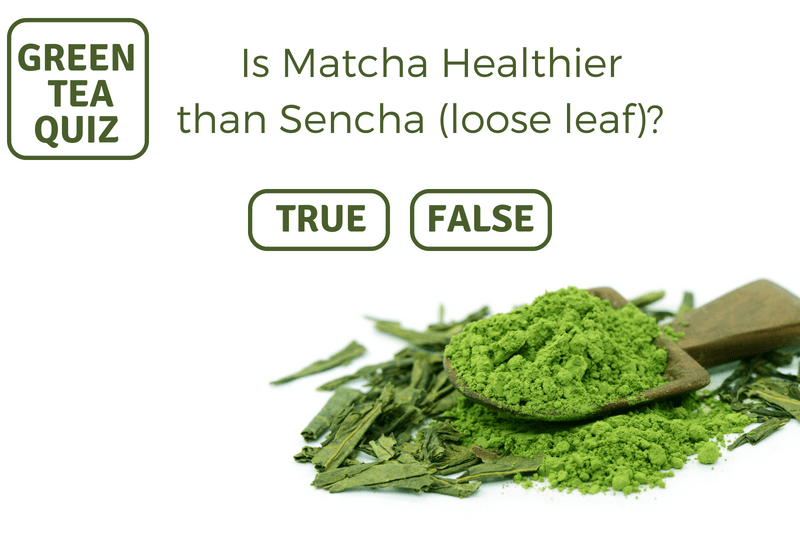 Short Answer – Matcha is Healthier
The short answer is: Yes, Matcha is healthier than loose-leaf (sencha) tea except for the fact that matcha has more caffeine than loose-leaf tea.
Why Matcha is Healthier?
The main reason that matcha is healthier than sencha is not because of the differences in the tea itself, but in how you drink it.
Matcha comes in a powdered form where you are consuming the entire tea leaf. Conversely, when you drink loose-leaf (sencha) tea, you are steeping the tea using teapot or some other filter. 
Regarding Matcha, by consuming the entire tea leaf, you get the maximum health benefit that comes with the tea. 
But Wait, Matcha has More Caffeine!
In spite of its benefits, matcha has more caffeine than sencha.  As you may know, caffeine is not necessarily considered a healthy element of tea.  
Authentic matcha is grown in shade before the harvesting which the tea leaf creates more caffeine during this period.
So… What About Powdered Green Tea? 
Powdered Green Tea, AKA konacha, is produced by powdering regular sencha.  With this in mind, if quality sencha is used for powdering the green tea, this will make the tea as healthy as matcha while containing less caffeine. 
Powdered Tea = Bad Quality?
The problem is that most powdered teas are produced by using low quality green tea.  As you can imagine when processing green tea, there are "left over" tea leaves or stems which are perfect for powdering.   Obviously, the stems of tea leaves, otherwise considered leftover parts, are not thought to be particularly healthy.
Find Quality Powdered Tea
There are exception to these, however. For instance, if you are able to find powdered tea which are powdered from premium green tea, you get the best of both of worlds i.e., consuming entire tea leaf + less caffeine.
Japanese Green Tea Company's Green Tea with Lemon and Green Tea with Orange or Benifuuki Powdered Tea which are good for allergy are all examples of this, but you will find many more quality powdered tea online. 
Just make sure that you order powdered tea that is claimed to be powdered from first crop or top-quality part of the tea leaf. 
Regardless, if you don't mind the caffeine and love that sweet bitterness of matcha, then matcha is indeed healthy for you!
Related Articles You May Be Interested In
---
Get Free Download
If you have ever thought that Green Tea is an ìacquired tasteî or that it is ìtoo bitterî to enjoy, weíre here to change your mind! We want everyone to experience the health benefits of Green Tea and show you that this can be an amazing, refreshing, and delicious drink when made correctly. With just a few tips on how to brew this powerful leaf, we can change your mind about the taste and enjoyment of drinking Green Tea.
Donít miss out on the health benefits of tea!
Improve health
Increase brain function
Regulate weight
Lower your risk of cancers
Reduce risk of heart disease
Lowers risk of diabetes
We know that you will love this tips to brewing tea and getting the most flavor and elegance out of every cup. Sign up for our newsletter and get this great informative manual on brewing green tea. You will learn what it is that makes it one of the most popular beverages in the world.
The E-Book also includes the chapter of Kei Nishida's book, "Art of Brewing Japanese Green Tea" where he teaches you how to brew hot and cold Japanese Green Tea.