Japanese Green Tea Company at ChocoTea Expo, Mumbai India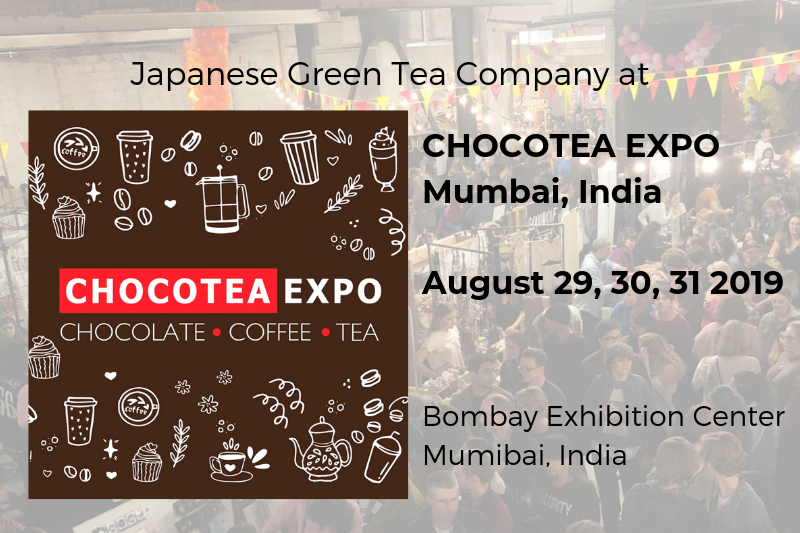 Japanese Green Tea Company held a booth at ChochoTea Expo happening in Mumbai, India on August 29, 30 and 31 2019.
This was the first time we are having a booth in India.  Though we have been having various event participations in the USA, we had never held a booth outside the USA.  This was our first attempt to have an event participation in India.
What is ChocoTea Expo?
Chocotea Expo is introduced as pioneer exhibition with a purpose of promoting the Chocolates, Cocoa, Tea & Coffee sector in India. As lot is happening in the world of Chocolate, Cocoa, Tea and Coffee industry as it holds a bit of the market share owing to increasing application in several beverage products. If you are willing to upscale your operations, expand your network and eventually increase your profits, you must plan now to accelerate the same. Boost your business in just 3 business days by participating at Chocotea 2019- Mumbai, an international trade fair for beverage, dairy and liquid food industry

For the first time in 2019, Chocotea will take place at the Mumbai India Bombay Exhibition Center (Goregoan).

There's no better time to be involved in Chocotea. We're excited to make Chocotea our new home, and welcome the Indian and the international Choaolate, coffee and tea industry to the Financial capital of the country – in what really will be in the heart of India.
The First and Only Japanese Vendor

We were proud to be the first and only Japanese Vendor exhibiting genuent Premium Matcha and Japanese green tea at the event. 
Get Free Download
If you have ever thought that Green Tea is an ìacquired tasteî or that it is ìtoo bitterî to enjoy, weíre here to change your mind! We want everyone to experience the health benefits of Green Tea and show you that this can be an amazing, refreshing, and delicious drink when made correctly. With just a few tips on how to brew this powerful leaf, we can change your mind about the taste and enjoyment of drinking Green Tea.
Donít miss out on the health benefits of tea!
Improve health
Increase brain function
Regulate weight
Lower your risk of cancers
Reduce risk of heart disease
Lowers risk of diabetes
We know that you will love this tips to brewing tea and getting the most flavor and elegance out of every cup. Sign up for our newsletter and get this great informative manual on brewing green tea. You will learn what it is that makes it one of the most popular beverages in the world.
The E-Book also includes the chapter of Kei Nishida's book, "Art of Brewing Japanese Green Tea" where he teaches you how to brew hot and cold Japanese Green Tea.