Japanese Green Tea Company Wins Global Tea Championship 2 Years in a Row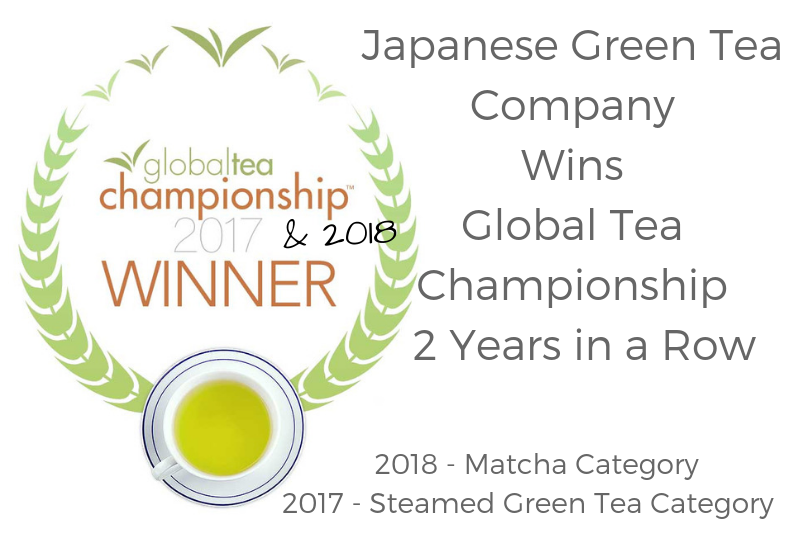 On October 9 2018, Global Tea Championship awarded our Japanese Green Tea Company the Silver Medal in the Matcha Category. 
Japanese Green Tea Company Won Global Tea Championship in 2017 in the Steamed Green Tea Category. 
This marks the second year in a row that the Japanese Green Tea Company has won a prestigious award from the Global Tea Championship.
2018 - Matcha Category 
2017 - Steamed Green Tea Category
The official result was published through World Tea News here.
The competition took place in Boulder, Colorado USA on Sept. 29 2018. 
There were 168 teas submitted by 44 companies from 16 countries.
Official Judges' Comment 
Following are the official comments about Japanese Green Tea Company's Matcha from the judges. 
DRY LEAF:
Judges' Comments: Very Good
LIQUOR COLOR/CLARITY
Judges' Comments: Exceptional
LIQUOR AROMA
Judges' Comments: Exceptional
Aroma exceeds expectations and is far superior to the typical aromas seen in category.

LIQUOR FLAVOR
Judges' Comments: Exceptional
Taste/Flavor exceeds expectations and is far superior to the typical flavors seen in the category.
LIQUOR MOUTHFEEL/BODY
Judges' Comments: Very good

OVERALL HARMONY
Judges' Comments: Well Balanced
Try Our Award Winning Matcha? 
Following is the Japanese Company's Winning Ceremonial Matcha if you are interested in trying it out.
This matcha was also highly praised by Oolong Owl which you can read her review here. 
Here Are Other High Quality Japanese Matcha Powder Products from Japanese Green Tea Company
If you are interested in trying other Japanese Matcha and Green Tea powder products, here are list of popular powder green tea from Japanese Green Tea company.  All our products are single-sourced and cared the same way as the Winning Matcha. 
Get Free Download
If you have ever thought that Green Tea is an "acquired taste" or that it is "too bitter" to enjoy, we're here to change your mind! We want everyone to experience the health benefits of Green Tea and show you that this can be an amazing, refreshing, and delicious drink when made correctly. With just a few tips on how to brew this powerful leaf, we can change your mind about the taste and enjoyment of drinking Green Tea.
Don't miss out on the health benefits of tea!
Improve health
Increase brain function
Regulate weight
Lower your risk of cancers
Reduce risk of heart disease
Lowers risk of diabetes
We know that you will love this tips to brewing tea and getting the most flavor and elegance out of every cup. Sign up for our newsletter and get this great informative manual on brewing green tea. You will learn what it is that makes it one of the most popular beverages in the world.
The E-Book also includes the chapter of Kei Nishida's book, "Art of Brewing Japanese Green Tea" where he teaches you how to brew hot and cold Japanese Green Tea.