Which Tea Kettle Should I Use to Brew Japanese Green Tea?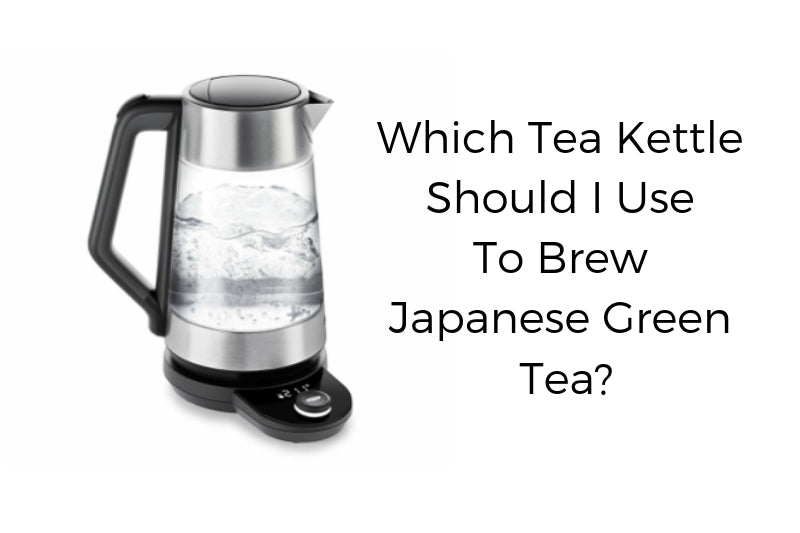 As my followers know, Japanese green tea is a major part of my life.  Green tea also has become a very important aspect of many cultures.  Each culture has created its own traditions of brewing and serving green tea.  
This tradition includes the use of tea ware or teapots for brewing Japanese green tea.  Traditional Japanese teapots are called "kyusu".  A kyusu is designed specifically for brewing Japanese green teas.  
When we talk about green tea quality and taste, there is great difference between loose leaf green tea and teabags, in general.  And, although brewing loose leaf Japanese green tea (sencha) may be a bit more detailed or require more steps, the result is well worth the effort.
So, we're focusing today on the best tea ware for brewing loose leaf Japanese green tea (sencha).  To know the right tea pot to use, read on for my insight.  There are a few things to consider.
The Design Should be More Function than Form
Of course, the design of your teapot should be attractive.  However, I believe the teapot should be functional.  
Is the teapot heavy?  Does it maintain the temperature of the tea?  Is it easy to clean?
You want your teapot to be easy to handle, with a sturdy lid and wide opening to a allow tea leaves and water. 
The spout should be stout and line up with the handle for easy pouring.   To avoid dribbling when pouring, the spout should be tapered, with a wide base and narrow tip.  The spout should also reach above the body of the teapot for ease of pouring.   Inside the spout should be smooth, which allows the green tea to stream smoothly.
The Materials Used in the Tea Ware is Important
The material used to make the tea ware is important. The raw material of the tea ware can affect the taste and quality of green tea.   The material also impacts a preference for appearance, weight, maintaining tea temperature, and ease of cleaning.  
Many options in the design of green tea pots exist.
The Cast Iron Tea Ware is Classic and Durable


The cast iron tea pot, oftentimes called a Japanese tetsubin is fashioned with a spout from cast iron. Originally, tetsubin was the name given to a Japanese cast iron pot to boil the water for tea directly on a heating source (such as hot coals).  However, modern designs have incorporated an enamel internal finish to allow the tea pot to be used for the green tea brewing.  Many cast iron tetsubins have an internal strainer to further allow for a convenient brewing of Japanese green tea.


The tetsubin is favored for its sturdy build, almost incapable of destruction.  The original material is perfect to retain heat for an hour or more, allowing for an extended time to enjoy your hot steeped green tea.  Clean up is simple, requiring a simple rinse in warm water and thorough drying (to avoid rusting.  A bit of iron supplement can also be obtained when steeping with the tetsubin.  
The negative aspect of the cast iron tea ware is the weight of the cast iron, which some people disfavor.   If a diffuser strain is not included, a separate strainer will be needed to separate the tea leaves.

Click here to purchase one that I personally use here.
 Clay Tea Ware Is the Most Traditional

Traditional Japanese green tea ware is found in the clay teapots.  Although many cultures rely on a clay teapot for the darker teas that are highly oxidized, the Japanese culture has long used the clay pot to brew Japanese green tea.
The clay tea ware is both classic and refined.  Depending on the type of clay used, some clay teapots – like the beloved Tokoname Yaki - can enhance the green tea flavors and aroma. 
Although the iron-rich red clay of the Tokoname Yaki will enhance each steeping with the memory of the former, most clay tea ware will not.  Regardless of your preference, the clay teapot design is very sturdy and durable over time.


Glass Tea Ware is Beautiful & Light
The beautiful glass teapots allow you to admire the beautiful green tea leaves brewing as they change the water color brightly green. 
Glass teapots disperse the infusion quickly, without affecting flavor.  This is perfect for Japanese green tea. The design is lightweight and truly indispensable when brewing and serving blossoming teas.  Clean-up is simple with the glass tea ware.
The beauty of the glass tea ware is marred only by its fragility, which is susceptible to breaking when serving and cleaning. 
Porcelain and Ceramic Tea Ware is Classic 
Porcelain pots are considered a classic tea ware with an adaptability to different types of teas.  They are best used for the lightly oxidized teas, such as green tea and white tea.
The porcelain and ceramic teapot is very versatile because it does not absorb the tea's flavor, so it can be used for many different teas, without requiring a separate pot for each.  
You will find the porcelain or ceramic teapot has a tendency to become stained by tea residue and it doesn't maintain heated tea very long.
Silver Tea Ware is Beautiful
Silver teapots are known to give a refreshing water quality to Japanese green tea.  Silver is fine for the soft teas, such as green tea and white teas.  They are also beautiful to look.
The negative things about silver teapots is that they are difficult to maintain, due to their propensity to tarnish and are probably the most expensive tea ware.
Stainless Steel Tea Ware is Modern & Functional 
Modern look for a traditional beverage.  Very true to the water quality in that it does not change the flavor of the green tea or absorb steeping flavors.  Another benefit is the steel's ability to maintain heat and not allow the green tea to cool down too quickly.   It is also very easy to maintain and keep clean, especially the newer designs with non-smudge finishes.  There are many options for design and finishes.   
My Favorite Tea Ware to Brew Tasty Japanese Green Tea
ELECTRIC KETTLE BREWING MAKES BREWING JAPAN GREEN TEA EASY! 
The ability to brew delicious Japanese green tea quickly is such a joy.  I mean, why wait for that first delicious cup if you don't have to.  
So today, we're looking at the convenience of the OXO BREW Cordless Glass Electric Kettle, which I personally use daily.

   

It is manufactured by OXO.
HERE ARE SOME REASONS TO CONSIDER USING AN ELECTRIC TEA KETTLE
One great option for making tasty Japanese green tea is by using an electric tea kettle.  There are a couple of reasons to use an electric tea kettle.
Microwave Brewing is Not Exact and It Takes More Time
Microwaving your water to brew Japanese green tea takes more time than most electric tea kettles.  This is because you must keep swirling the water as it heats to get even temperatures.  
Also, with microwave heating there is no easy way to assure that you are getting the right temperature for brewing your tea.  For example, most Japanese sencha green tea is best brewed at 175 degrees Fahrenheit (79 degrees Celsius).  Herbal teas taste best when steeped at 212 degrees Fahrenheit (100 degrees Celsius).  Oolong teas are best brewed at 185 – 205 degrees Fahrenheit (85 to 95 degrees Celsius).    (See list of proper temperature by tea type here)
Stovetop Brewing Is Not Exact for Proper Brewing Temperatures 
Stovetop heating your water in a kettle may be a fast way to get hot water.  However, much like microwave heating, it is difficult to assure the correct temperature.
When you use the stovetop, the entire heating kettle becomes hot, including the handle.  This can lead to a burn.  The conventional kettle can also pick up flavors and aromas from previous uses, impairing the pure green tea aroma and flavor. 
What Do I Use for Boiling Hot Water?
Readers often ask me what teapot I use to brew my tasty Japanese green tea.  For those who wonder, the tea ware that I currently use is the OXO BREW Cordless Glass Electric Kettle, Stainless Steel.  
Some of the main reasons I prefer this tea pot are listed below:
Temperature Control – Essential to each variety of tea preparation is the water temperature.

 

This product temperature dial maintains the precise temperature for brewing up to 30 minutes.


Yuzamashi is Easy – Yuzamashi, or the process of first boiling tea water then letting it cool, is simple with this teapot.

 

After boiling, I can remove the kettle for a few minutes and then replace it again to check the water temperature. (Read more about yuzamashi technique here)
Cordless Design is Convenient – The OXO's cordless design provides easy maneuverability once the water temperature is reached.

 

The cord also stores easily when not in use.






The only drawback I have found for this tea ware is that there is some difficulty draining out the last few drops of tasty Japanese green tea.  But, hey, if this happens, looks like it's time to brew another pot.
JAPANESE GREEN TEA LOVERS WILL LOVE THE FEATURES OF OXO
The OXO BREW Cordless Glass Electric Kettle has some very good features.  There are a few products marketed like the OXO BREW Cordless Glass Electric Kettle for hot brewing their Japanese green tea.  Most of the competitors offer their product with a stainless-steel body.  
Following are more highlights about this tea kettle. 
It is versatile in that it allows you to exactly set different temperatures.

 

The OXO lets you set the brewing temperature for different teas, such as green, white, herbal, black and oolong.

 

It also can be used for pour-over coffee.

 

It has a large 1.75-liter kettle capacity.

The glass kettle boils quickly, and heated water can be maintained for up to 30 minutes.

The OXO temperature memory recalls your preferred heating temperature.

Temperature function makes choosing your heating temperature easy to use between Fahrenheit and Celsius temperatures.

Audible signal alerts when proper temperature is reached.

Thermal shock-resistant glass provides easy viewing and safety for user.

The kettle is cord free for easy maneuverability.

Stay cool handle is also non-slip and comfortable to grip.

Ample lid opening to release steam.

Stainless steel mesh filter is reusable, removable, functional and easy to clean.
Here is some relevant information on the OXO BREW Cordless Glass Electric Kettle product for brewing tasty Japanese green tea:
OXO Product Specifications:
Product Manufacturer: OXO.
Product Size: 1.7 Liter
Product Color: Glass body
Product Dimensions: 8 x 8 x 12.5 inches
Product Weight: 4.0 lbs. / 5.0 lbs. shipping
Product Model Number: 8716900
ASIN Number: B01KTRDKNW
Amazon Price: $159.99 
CUSTOMERS HAVE HAD GOOD EXPERIENCE WITH THE OXO
When I select product, I enjoy reading product reviews found on Amazon. Most customer reviews were very favorable about the OXO, with the product receiving an overall favorable rating of about 84%.  The following are the ratings I reviewed for you:
5 star – 62%
4 star – 14%
3 star – 8%
2 star – 5%
1 star – 11%
Product Pros:
Most comments about the OXO BREW Cordless Glass Electric Kettle were favorable.  Here are some of the positive comments on the product I uncovered:
Customers liked the convenient temperature controls.

Customers liked the temperature memory.

Customers liked the ease of use.

Customers liked the ease of cleaning.

Customers liked the automatic "keep warm" feature for 30 minutes.

Customers liked the easily removed mechanical filter for cleaning.

Customers liked the easy switch between Celsius and Fahrenheit.

Customers liked the glass container size.

Customers liked the lack of mineral build-up from boiling water.

Customers liked the easy comfort handle that stays cool to the touch.

Customers liked the fast heating of water.

Customers liked the ability to use the product for tea or coffee.
Product Cons:
Only a couple negative comments about the OXO were made.  Here are some of the negative comments on the product I uncovered: 
Customers disliked that the item was pricey compared to many other kettles.

 

Customers disliked that the rim design does not allow all the water or tea to be extracted at the very end of pouring.

Customers disliked that the product is not easy to clean leaving water residue. (Though I found that keeping the lid open after turning off usually evaporates the water so that it always looks clean – I don't put anything other than water in the kettle so it stays clean)

Customers disliked mineral build-up if using hard water.

Customers disliked the glass container size – too big and heavy.

Customers disliked the time it takes to heat the water.
What Other Product Compare to the OXO Tea Kettle?
An internet search uncovered some comparable electric tea kettles to the OXO Electric Tea Kettle.  What we looked for are those kettles with an adjustable temperature control intended for the proper brewing of different teas.  Here we provide a list of similar products.  The prices are average Amazon on-line. 
Cuisinart – Cuisinart CPK 17 PerfecTemp 1.7 Liter Stainless Steel Cordless Electric Kettle.  
Price:

 

$70.99
Bonavita – Bonavita BV 382510V 1.0 Liter Digital Variable Temperature Gooseneck Kettle.
Price:  $52.56
Willow & Everett - Electric Gooseneck Kettle with Temperature Presets - 1L Electric Tea Pot Kettles with Temperature Control
Price:  $64.99
Breville – Breville BKE830XL – The IQ Kettle
Price: $149.83
Do you have a favorite teapot you use for brewing your Japanese green tea?  Please comment below and tell me about your favorite and why. I'm curious. 
Related Articles You May Be Interested In
---
Get Free Download
If you have ever thought that Green Tea is an ìacquired tasteî or that it is ìtoo bitterî to enjoy, weíre here to change your mind! We want everyone to experience the health benefits of Green Tea and show you that this can be an amazing, refreshing, and delicious drink when made correctly. With just a few tips on how to brew this powerful leaf, we can change your mind about the taste and enjoyment of drinking Green Tea.
Donít miss out on the health benefits of tea!
Improve health
Increase brain function
Regulate weight
Lower your risk of cancers
Reduce risk of heart disease
Lowers risk of diabetes
We know that you will love this tips to brewing tea and getting the most flavor and elegance out of every cup. Sign up for our newsletter and get this great informative manual on brewing green tea. You will learn what it is that makes it one of the most popular beverages in the world.
The E-Book also includes the chapter of Kei Nishida's book, "Art of Brewing Japanese Green Tea" where he teaches you how to brew hot and cold Japanese Green Tea.