Can I throw used green tea leaves in my garden?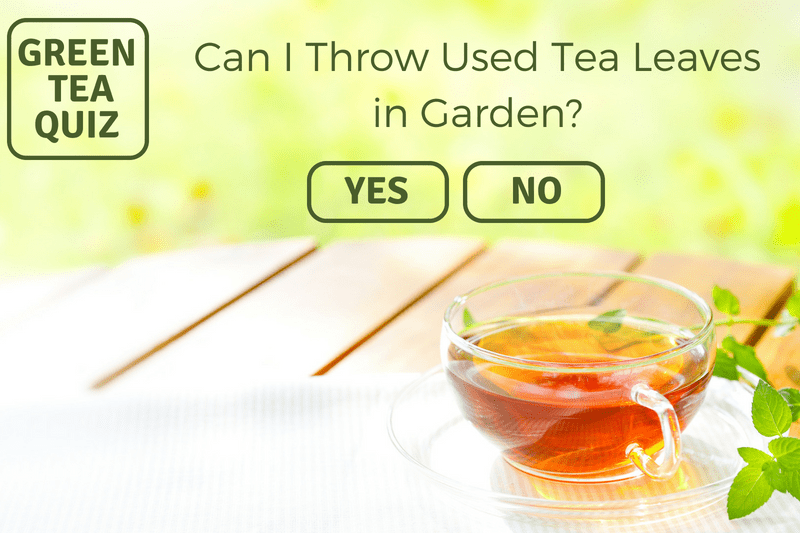 We all know the extensive list of the ways in which green tea benefits our health. Green tea is not just great for us though. The leaves in your green tea bag can be a wonderfully healthy addition to the plants in your garden's diets as well.
Green tea is very high in nitrogen, which is vital for your plant's survival, as it is found in abundance in chlorophyll.
Chlorophyll is the compound that enables plants to use energy from the sun to produce sugars from water and carbon dioxide (photosynthesis).
Nitrogen is also one of the main elements of amino acids, the building blocks of proteins. A lack of protein causes plants to wither up and eventually die.
In addition, green tea leaves contain high amounts of phosphorus and potassium, which are just as essential to all different species of plants.
The usage of green tea leaves in your garden can also aid plants in water retention and deter weeds.
Green Tea Leaves Can Further Enrich Your Garden Soil With Nutrients
When you add in some green tea leaves to your garden, they not only give your plants a boost of nitrogen, helping them to grow faster, healthier, and stronger, but they become food for earthworms, which work to contribute to the overall quality of the soil.
Green tea leaves act as a natural fertilizer or manure. This can be achieved directly in a few simple ways:
You can spatter a thin layer of green tea leaves around the bases of your plants, focusing primarily on acid-friendly plants, such as roses, tomatoes, or blueberries.

These types of plants thrive in acidic soil, which the green tea leaves will produce, but as long as you use the green tea leaves sparingly, it will only add a small amount of acidity to your garden, and will benefit all kinds of plant varieties.
Just sprinkle a decent amount of green tea leaves directly atop the soil in your garden, mixing it into the soil gently.
Place your biodegradable tea bag right under the soil. 
Feed Your Garden With A Homemade Green Tea Superfood Tea For Plants
Soak a used green tea bag in your watering can for a week or so, or until the water starts to change its color. Use this green tea concoction to water your garden with. This goes for indoor plants as well.
 
After soaking the green tea bags, it's recommended to throw them away as the leaves can eventually attract parasites just as much as they can attract beneficial worms. Before throwing them out though, wipe all the leaves of your plants with the dampened tea bags to give them a little extra life. 
Include Green Tea Bags In With Your Compost Pile For Added Nutrients
 You can simply throw your green tea leaves into your regular compost pile for extra nutrients. They also help to speed up the decomposition of the other ingredients in the compost pile. Earthworms eat up the leaves, and process them, producing a nutrient-rich fertilizer for your garden.


If the green tea bag is biodegradable (make sure it is first), you can add it in the compost bin as well!

If the bag is not biodegradable, that means it contains a polypropylene coating, making it harmful to the earth. Keep in mind that even biodegradable tea bags often have tags and staples, which must be removed before the composting process.


Use this method for your garden when wanting to use green tea leaves for your edible fruits and vegetables. This is because applying green tea leaves directly to the soil in the midst of an active growth cycle can affect the pH balance and/or the taste of your crops. 

With this, you're probably starting to regret all those past cups of green tea where you threw away those precious tea bags without a second thought. Don't feel bad. We've all done it.
Just remember, now you know you can kill two birds with one stone. Go ahead, drink up that delicious green tea and then let your garden taste some too!
Related Articles You May Be Interested In
---
Get Free Download
If you have ever thought that Green Tea is an acquired taste or that it is too bitter to enjoy, but we're here to change your mind! We want everyone to experience the health benefits of Green Tea and show you that this can be an amazing, refreshing, and delicious drink when made correctly. With just a few tips on how to brew this powerful leaf, we can change your mind about the taste and enjoyment of drinking Green Tea.
Don't miss out on the health benefits of tea!
Improve health
Increase brain function
Regulate weight
Lower your risk of cancers
Reduce risk of heart disease
Lowers risk of diabetes
We know that you will love this tips to brewing tea and getting the most flavor and elegance out of every cup. Sign up for our newsletter and get this great informative manual on brewing green tea. You will learn what it is that makes it one of the most popular beverages in the world.
The E-Book also includes the chapter of Kei Nishida's book, "Art of Brewing Japanese Green Tea" where he teaches you how to brew hot and cold Japanese Green Tea.