Can I use K-cup to brew green tea?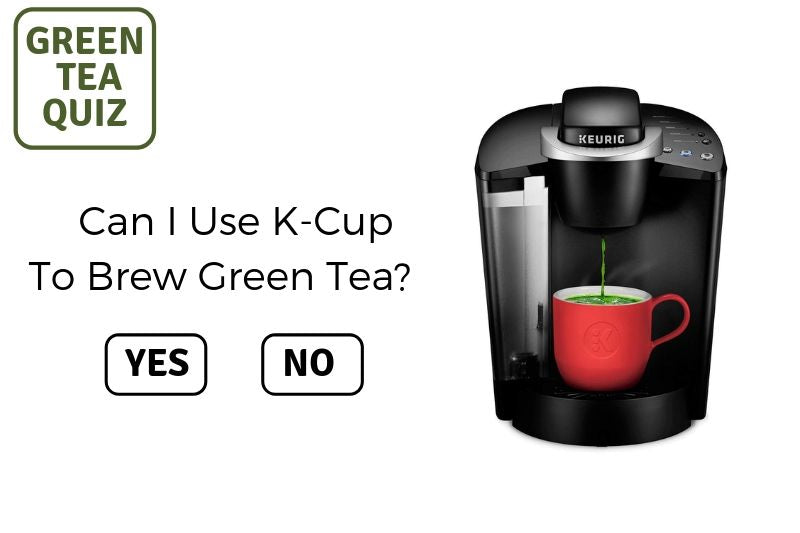 It seems as if everyone has a Keurig on the kitchen countertop for brewing coffee in an instant.  At home and in the office, Keurigs are everywhere.
The world of Japanese green tea lovers shouldn't feel left out of the Keurig hysteria.  This is because the Keurig is perfectly crafted to also make a quick steeping cup of Japanese green tea.  When you don't have the time or desire to prepare your green tea using traditional Japanese green tea sencha preparations, you can reach for your Keurig.
I was happy to learn that Keurig considered its tea lovers by enlisting a team of tea authorities to provide steps and good tips to get a good cup of tea.  So here I am going to give you a convenient way to brew a cup of tasty Japanese green tea to achieve the best flavor in a pinch.
Please note: This works well with sencha loose leaf green tea, but does not work well with matcha or powdered green tea.  For Powdered tea, the tea absorbs water and gets stuck.  The best was when I mixed 95% of sencha and just 5% sparkle matcha on top, with which I get a nice green tea with aroma from sencha.
HERE ARE THE STEPS TO BREW A TASTY CUP OF JAPANESE GREEN TEA WITH A POD BREWER
Step 1. Turn on machine to pre-heat water.
Step 2. Lift and close lid to trigger the "brew hot water" option.
Step 3. Select "yes" to confirm hot water brewing only.
Step 4. Place a mug or dispensing cup under the dispenser.
Step 5. Choose water level option.
Step 6. Press start to begin dispensing water.  Discard water, as this is your purge step for any coffee or cocoa residue.
Step 6. Repeat Step 2 through 5.
Step 7. Press start. (The water temperature will be approximately 190 degrees F.)
Step 8. Allow water to cool to about 175 degrees F / 85 degrees C.
Step 9. Place Japanese green tea sachet or tea bag into cup.
Step 10. Steep approximately 1 to 2 minutes. Remove tea sachet or tea bag.
Step 11. Enjoy a delicious and quick steeping of Japanese green tea.
HERE ARE SOME QUICK TIPS WHEN BREWING JAPANESE GREEN TEA IN A KEURIG
Be sure to run a clean cycle of water through the Keurig first to clear out any residue of previous coffee and hot cocoa brews.
Don't attempt to brew matcha with the Keurig because matcha is a powder and requires traditional preparation for whisking and foaming.
Don't put your Japanese green tea sachet or tea bag inside of the brew basket.  Instead, place it in your mug. If using loose Sencha, place the loose green tea into your tea diffuser.
I use the following reusable K-cup which I can wash and use again.  
---
Get Free Download
If you have ever thought that Green Tea is an ìacquired tasteî or that it is ìtoo bitterî to enjoy, weíre here to change your mind! We want everyone to experience the health benefits of Green Tea and show you that this can be an amazing, refreshing, and delicious drink when made correctly. With just a few tips on how to brew this powerful leaf, we can change your mind about the taste and enjoyment of drinking Green Tea.
Donít miss out on the health benefits of tea!
Improve health
Increase brain function
Regulate weight
Lower your risk of cancers
Reduce risk of heart disease
Lowers risk of diabetes
We know that you will love this tips to brewing tea and getting the most flavor and elegance out of every cup. Sign up for our newsletter and get this great informative manual on brewing green tea. You will learn what it is that makes it one of the most popular beverages in the world.
The E-Book also includes the chapter of Kei Nishida's book, "Art of Brewing Japanese Green Tea" where he teaches you how to brew hot and cold Japanese Green Tea.