How Green Tea Helps to Improve Your Immune System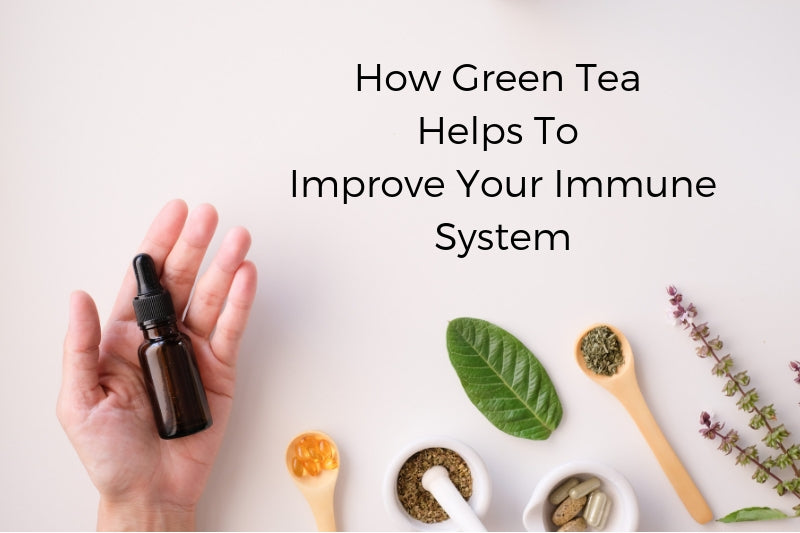 While green tea craze is starting to catch on all over the world, countries such as Japan, China and India have long-rooted history and cultures enveloped in tea. Traditionally, the Japanese, Chinese and Indians have utilized green tea in their medicine to boost the immune system and to prevent various ailments. It is not until recently that the western world has discovered green tea and is reaping a lot of health benefits from it. Aside from just warding off illnesses, green tea has also been proven to help with weight loss, skin care, increasing life expectancy and also improving brain function. So, how does green tea help to improve your immune system?
Antioxidant Properties
The secret to green tea's ability to ward off diseases lies in its antioxidant properties. While the body produces its own antioxidants (endogenous), on their own they are not very effective when dealing with free radicals (waste substances resulting from oxidative stress). Oxidative stress has been linked to various ailments, such as cancer, arthritis, stroke, heart diseases, Parkinson's disease and respiratory diseases. Inability of the body to deal with the free radicals exposes you to these diseases. It is due to this reason that you need external sources of antioxidants (exogenous), which green tea is a good source of.
Compared to other types of tea, green tea has the highest concentration of Polyphenols(antioxidants). This can be attributed to the fact that it is the less processed type of tea. Fresh leaves of the CamelliaSinensis are rapidly steamed to inactivate enzymes and to prevent fermentation and oxidation of essential compounds. As a result, green tea is rich in polyphenol compounds also referred to as flavanols or catechins. They include -epicatechin, -epigallocatechin, -epicatechin-3-gallate, and -epigallocatechin-3-gallate(EGCG). Immune boosting properties of green tea are facilitated by these flavanols.
Cancer Prevention
Many cancer studies have shown that there is a strong link between oxidative stress, chronic inflammation and cancer. Oxidative stress facilitates the transformation of normal cells to inflammatory or tumor cells. When tumor cells grow uncontrollably, they lead to cancer. It is due to this reason that chronic inflammation is regarded in medical circles as a 'secret killer', because (in most cases) it is a precursor to various forms of cancer.
Polyphenols antioxidants in green tea reduce cancer risks by inhibiting or slowing down the oxidative damage process in our bodies. EGCG in particular stops cancer cells from growing and even directly kills them. There are many evidences to support the anticancer effects of green tea. A meta-analysis of studies carried from 1998 to 2009 showed that women who drank green tea have a 30% lower risk of developing breast cancer. Another study carried out by the Japan Public Health Center involving more than 49,000 male subjects also showed that green tea reduced the risk of men developing prostate cancer by 48%.
Prevention of Coronary Heart Diseases
Causes of coronary heart disease include low physical activity and a diet high in saturated fats that lead to clogging of arteries (atherosclerosis). Green tea helps prevent coronary heart disease in two ways: first, it facilitates proper function of endothelial cells, which prevents atherosclerosis. Inflammation of endothelial cells leads to atherosclerosis. Secondly, it promotes fat oxidation and prevents obesity. In addition, consumption of Green tea also reduces the risks of high blood pressure, stroke, osteoporosis, Type 2 Diabetes, liver disease, viral diseases and bacterial infections. Some studies found that drinking Green tea will  help to accelerate fitness recovery fast than usual.
UV Protection
Ultraviolet radiations from the sun has been linked to various health complications, including DNA damage, immunosuppression and skin cancers like melanoma and nonmelanoma. While green tea does not block the UV rays, it reduces the effects of free radicals and prevents inflammation caused by extensive exposure to sunrays. When green tea is metabolized, the metabolites find their way to the skin tissue fluids and form a kind of protective guard against the effects of UV rays.
A study showed that people who took small oral doses of green tea (2 cups for 12 weeks) experienced less reddening of the skin (erythema) when exposed to sunrays than those who did not. In another study, mice that were administered green tea through water showed less tumor incidences in terms of size and multiplicity compared to mice that were not. Since tumors are directly linked to cancer, reduction of tumor incidences means that the risk of cancer is also reduced. It is worth noting also that the anti-inflammatory effects of green tea slows down the process of aging.
Antimicrobial Properties
Several studies have also shown that green tea has antimicrobial properties that inhibit the growth of bacteria and viruses. Two particular polyphenol catechins, -epigallocatechingallate(EGCG) and –epicatechingallate(ECG) have the ability to suppress the activities of bacterial and viral factors and can even reverse the resistance of tough pathogens, such as methicillin-resistant Staphylococcus Aureus(MRSA). ECG and EGCG have the ability to penetrate through phospholipid layers. As a result, these two catechins alter the functions of bacteria and viruses by disrupting their cytoplasmic membrane making them vulnerable to antibiotics. Evidences suggest that the two catechin molecules can be used to effectively control various oral infections, such as dental carries, periodontal disease, tooth decay and bad breath.
The benefits of green tea are numerous. Some studies even indicate that green tea improves brain function and may even lower your risk of Alzheimer's and Parkinson's diseases in the old age. What makes this beverage stand out is the fact that it can be consumed or ingested through various ways not just through sipping. You can use it to dress salads, dunk rice (Ochazuke), include it in your smoothie or even use it to prepare marinade. The choices are innumerable and you can use it in virtually any type of food.
It is also worth noting that there are so many types of green tea brands, each with different flavors and health benefits that you can take advantage of. Therefore, do not limit yourself to just a single brand and deny yourself the benefits of others, enjoy as many brands as possible to boost your immune system and keep your body in good shape.
Related Articles You May Be Interested In
---
Get Free Download
If you have ever thought that Green Tea is an ìacquired tasteî or that it is ìtoo bitterî to enjoy, weíre here to change your mind! We want everyone to experience the health benefits of Green Tea and show you that this can be an amazing, refreshing, and delicious drink when made correctly. With just a few tips on how to brew this powerful leaf, we can change your mind about the taste and enjoyment of drinking Green Tea.
Donít miss out on the health benefits of tea!
Improve health
Increase brain function
Regulate weight
Lower your risk of cancers
Reduce risk of heart disease
Lowers risk of diabetes
We know that you will love this tips to brewing tea and getting the most flavor and elegance out of every cup. Sign up for our newsletter and get this great informative manual on brewing green tea. You will learn what it is that makes it one of the most popular beverages in the world.
The E-Book also includes the chapter of Kei Nishida's book, "Art of Brewing Japanese Green Tea" where he teaches you how to brew hot and cold Japanese Green Tea.