Is Green Tea A Good Appetite Suppressant?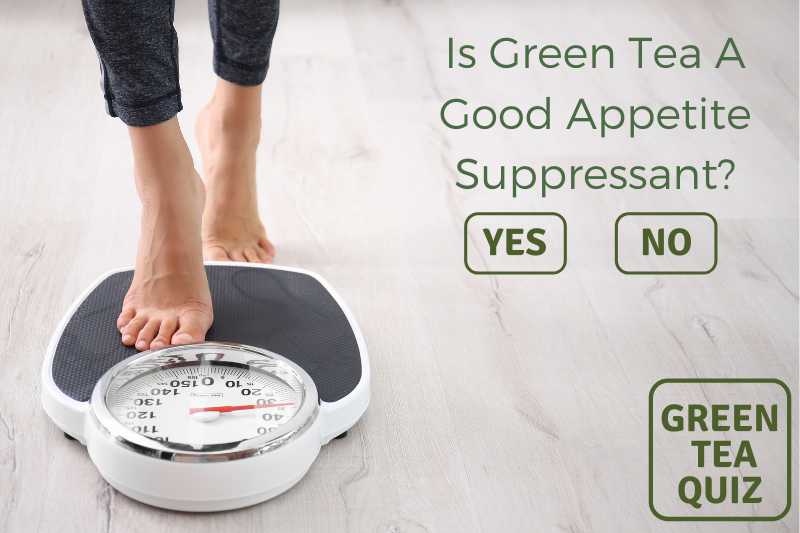 Green tea is thought to be one of the most popular beverages in the world besides water. In some Asian societies, the partially fermented leaves of green tea, which come from the camelia sinensis plant, are included in many important cultural ceremonies in Japan and China.

Green tea has become more popular in the Western world and is consumed as a healthier alternative to black tea. Green tea can also be used as a potential weight loss aid. One of the benefits of green tea that has been discussed in detail over the years is the beverage's ability to suppress the appetite. One of the reasons this tea may have the ability to stave hunger is that it has various antioxidants and plant compounds that are beneficial to the human body. Some people also claim that green tea has the ability to burn fat, which is another reason people use it for weight loss.
The Breakdown of Catecholamine
It seems that green tea can suppress the appetite, and this may be due to several mechanisms. Green tea affects dopamine and norepinephrine in the body, which may lead to decreased hunger and weight loss. Norepinephrine and dopamine are peptide hormones that are classified as catecholamines, which activate the body's sympathetic nervous system. One of the main effects of catcholamines includes a reduction in the desire to eat. According to researchers, EGCG, which is one of the most active compounds in green tea, mediates the desire to consume food by breaking down an enzyme that would usually break down the catecholamines.



Caffeine Content
Green tea leaves contain several healthy compounds, including caffeine. One cup of green tea has much less caffeine than a cup of coffee; a cup of green tea contains between 24-40 mg of caffeine, which coffee has between 100-200 mg of caffeine. However, the caffeine in green tea does have a mild effect on the body.

Caffeine is a popular stimulant that helps to give people energy, especially in the mornings. The stimulant has also be found to help in the fat burning process and improves exercise performances in several research studies. 

However, green tea is significantly beneficial when it comes to antioxidants. According to studies, drinking one cup of green tea increases antioxidants in the bloodstream. The antioxidants are called catechins and epigallocatechin gallate or EGCG, which can boost the body's metabolism.

Even though one cup of green tea can raise antioxidant levels, most research studies have explored the benefits of green tea extract, a concentrated form of catechins.
Green Tea and the Production of CCK
One of the ways that green tea manages or suppresses the appetite is through the production of CCK. CCK is a hormone that is released in the intestines after eating, and alerts the brain that the body has had enough to eat. When CCK is released, the appetite is reduced immediately. This is the main reason people use green tea to suppress the appetite.


Burning Fat

Green tea not only potentially stops you from eating too much during meals, but can also burn existing fat. Polyphenols in green tea, including ECGC, accelerate thermogenesis, which is the process of burning fat and turning it into protein. Several studies have been conducted to compare the rate of fat burning among a group of individuals who drank green tea against a group who did not consume the tea. The results revealed that the polyphenols in the green tea are essential to burning fat. Energy expenditure from fat was only 31.6% of total energy use in the control group; the amount was 41.5% in the group that drank green tea.

Drinking tea in the morning as an alternative to coffee can prove helpful to control the appetite. The beverage can also be consumed during the day with meals for added portion control.
---
Related Articles You May Be Interested In
Get Free Download
If you have ever thought that Green Tea is an ìacquired tasteî or that it is ìtoo bitterî to enjoy, weíre here to change your mind! We want everyone to experience the health benefits of Green Tea and show you that this can be an amazing, refreshing, and delicious drink when made correctly. With just a few tips on how to brew this powerful leaf, we can change your mind about the taste and enjoyment of drinking Green Tea.
Donít miss out on the health benefits of tea!
Improve health
Increase brain function
Regulate weight
Lower your risk of cancers
Reduce risk of heart disease
Lowers risk of diabetes
We know that you will love this tips to brewing tea and getting the most flavor and elegance out of every cup. Sign up for our newsletter and get this great informative manual on brewing green tea. You will learn what it is that makes it one of the most popular beverages in the world.
The E-Book also includes the chapter of Kei Nishida's book, "Art of Brewing Japanese Green Tea" where he teaches you how to brew hot and cold Japanese Green Tea.