What is the best equipment for cold-brewing Japanese Green Tea?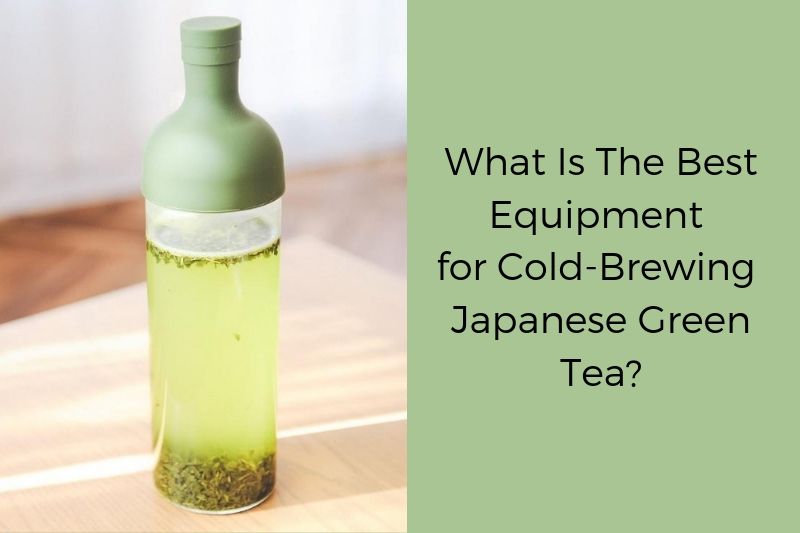 A great time to enjoy Japanese green tea is — well–always!   And that means when you live a busy lifestyle, you may not have access to a teapot and stove to heat the water for the perfect green tea infusion.
If you could brew on the go, you would never have to be without your favorite beverage.  So today we are looking at the Hario Cold Brew Filter-In Tea Bottle manufactured by Hario Co., Ltd.  
AN "ON-THE-GO" LIFESTYLE NEEDS JAPANESE GREEN TEA ON THE GO!
One great option for making tasty Japanese green tea is cold brewing.  Conceivably the best benefit about cold brewing Japanese green tea is that you can be on the go and still enjoy a fresh cup anytime.  
When cold brew green tea is done correctly, it results in a smoother and sweeter green tea beverage compared to a hot brew process.  This mellower green tea beverage result is because there are fewer bitter tannins.  Tannins are naturally released when brewing green tea, but few tannins are released during a cold brew process.    
And if you're concerned about caffeine levels, cold brewed Japanese green tea contains less caffeine than its hot brewed counterpart.  
THE HARIO COLD BREW FILTER-IN TEA BOTTLE
Since we're focused on cold brewed Japanese green tea, I thought it might be fun and helpful to give a review on a product you can utilize for cold brewed green tea.  The Hario Cold Brew Filter-In Tea Bottle lets you have freshly brewed Japanese green tea on the go.
Here is some relevant information on the Hario Cold Brew Filter-In Tea Bottle product for Japanese green tea cold brewing:
Hario Product specifications:
Product Manufacturer: Hario Co., Ltd.
Product Size: 750 ml
Product Color: Olive Green *
Product Dimensions: 22 x 15 x 13 inches
Product Weight: 1.09 lbs.
Product Model Number: FIB – 75-OG
Amazon Price: $21.99
Comparative Price:  $21.00 to $40.90
*also comes in red, white, and black
JAPANESE GREEN TEA LOVERS WILL BENEFIT FROM THE HARIO
There are few products exactly like the Hario for cold brew Japanese green tea.  Most of the cold brew tea canisters have spouts for pouring, so they won't be as easy to travel with as the Hario.  The snug-fitting plastic dome cap lets you carry the canister on the go.
The Hario is simple to use and is specifically designed for cold brewing green tea. Its canister is made of glass that allows for a clean-tasting green tea beverage.  The mesh filter keeps tea particles from floating in the brewed tea. Clean up is simple because of the wide-mouthed lid.
This IS MY PERSONAL FAVORITE
I use Hario every day and also at trade shows.  More than functionality, I like this product for the look of it too. It looks so modern on the kitchen counter and the simplicity of the design is just lovely.
I go to many tea trade shows and events, and I notice that many of the vendors use this product.
I am Japanese, so I am a bit biased about Japanese products (sorry!), but I think they did a pretty good job!
CUSTOMERS HAVE HAD A GOOD EXPERIENCE WITH THE HARIO
Aside from me personally using it and loving it, I reviewed all the product reviews on Amazon.   Most customer reviews were very favorable about the Hario, with the product receiving about an 88% positive rating.  The following are the ratings I found:
5 star – 82%
4 star – 6%
3 star – 7%
2 star – 4%
1 star – 1%
Product Pros
Most comments about the Hario were favorable.  Here are some of the product pros I discovered:
Customers liked the convenient access to fresh cold-brewed green tea
Customers liked the quality of green tea flavor the Hario brewed
Customers liked the ease of use
Customers liked the glass container saying it gave the green tea a better flavor
Customers liked the cold brewing that made the green tea smoother and sweeter
Customers liked the quality of the glass container
Customers liked the style and appearance of the product
Customers liked the glass container size
Customers liked the plastic dome lid, as it had a snug fit
Customers liked the wide mouth lid, as it made the Hario easy to clean
Customers liked the wide mouth lid, as it was easy to add ice cubes and fruits for herbal infusions
Product Cons:
Only a few negative comments about the Hario were made.  Here are some of the product cons I discovered:
Customers disliked that the recommended brew time – 5 hours – was inconvenient
Customers disliked the glass container due to its risk of breaking 
Customers disliked the plastic cap that was loose-fitting to the filter
Customers disliked the plastic cap that got an unpleasant odor after a few washings
Customers disliked the filter became a little loose allowing tea particle to get in the tea
What Alternatives to the Hario Are Available?
A thorough search revealed comparable products to the Hario, although most of them have a spout for pouring.  Many products specifically for cold brew travel are available for coffee, but not so much for brewing green tea.  Here is a list of similar products. The prices are average online.
IS THE HARIO WORTH YOUR MONEY?

The Hario Cold Brew Filter-In Tea Bottle really seems to be worth your money, both in convenience and process of brewing tasty Japanese green tea on the go.  If you can find it on places like Amazon, then the price makes it even more attractive to own.
This article was originally published on T-ching, where my work is featured
Related Articles You May Be Interested In
---
Get Free Download
If you have ever thought that Green Tea is an ìacquired tasteî or that it is ìtoo bitterî to enjoy, weíre here to change your mind! We want everyone to experience the health benefits of Green Tea and show you that this can be an amazing, refreshing, and delicious drink when made correctly. With just a few tips on how to brew this powerful leaf, we can change your mind about the taste and enjoyment of drinking Green Tea.
Donít miss out on the health benefits of tea!
Improve health
Increase brain function
Regulate weight
Lower your risk of cancers
Reduce risk of heart disease
Lowers risk of diabetes
We know that you will love this tips to brewing tea and getting the most flavor and elegance out of every cup. Sign up for our newsletter and get this great informative manual on brewing green tea. You will learn what it is that makes it one of the most popular beverages in the world.
The E-Book also includes the chapter of Kei Nishida's book, "Art of Brewing Japanese Green Tea" where he teaches you how to brew hot and cold Japanese Green Tea.